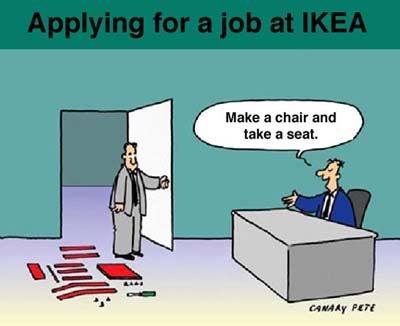 IKEA
arrived in Frisco amid much fanfare last year, the 24th American outpost of "
good design and function at low prices"
. What had everyone ga-ga? It's not just the 99-cent meatballs. According to the aptly-named
Positive Fanatics
, "Ikea balances two seemingly contradictory truths. It remains rooted in Scandinavian design, even as its global reach, toward customers "and" suppliers, broadens each year." IKEA must be commended for bringing the crisp, clean lines of modern Scandanavian design to the multitudes in an approachable and affordable way. Sherry Jacobson revisited the store's attraction in a recent Dallas Morning News
article
. Shoppers found the store "comprehensive" and "kid-friendly", offering "a little bit of everything" and a foreign flavor. The affordability lends itself well to the college and first-apartment crowd, but there are also budget-conscious stylewatchers and those who seem to rotate furniture with the seasons. The majority of items consist of flat-packed fiberboard components that assemble (some expletives might be necessary to aid in the more complicated versions). Flat-packing makes things transportable, while ecologically-conscious materials impress those who aren't struck by the pricing alone. Competitions range from Target's competing
designs
to the pricier
cousins
at Design Within Reach, but IKEA defines its niche, one that inspires creative
variations
and
video
and
song parodies
.
To the tune of Abba's "Mamma Mia":


Damn IKEA, here we go again
My my, feeling pale and trembly
Damn IKEA, sold me "Trollfjorden"
My my, it's all self-assembly
And if a screw goes AWOL
Man, you'll feel like an a-hole..
Why why, are you going back for more?
Damn IKEA, with their budget lines
My my, what a soul destroying store

IKEA was perhaps best spoofed by this
scene
in "Fight Club" touring us through Edward Norton's apartment, and
The Onion
offers its own
commentary
on the "epidemic of self-assembled, clean-lined modernist furniture". Love it or loathe it, IKEA has earned great cultural recognition for making modernism less affected and stand-offish, at least as best as it can and still preserve the tongue-twisting style names.